National Singing Programme...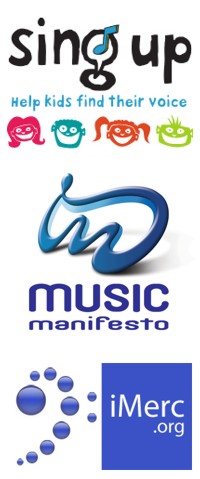 The National Singing Programme (2007-2011) 'Sing Up' is part of a UK Government initiative to support the development of musical activities under the umbrella of its 'Music Manifesto'.
Included in the intentions of the Programme are that Primary school-aged 'children experience high-quality singing, both within and without their daily school curriculum, on a daily basis' and that 'Every school has a teacher committed to facilitating high quality singing and vocal work for the whole school'.
The 'Sing Up' National Singing Programme was launched in November 2007 and a team from the Institute of Education, University of London, led by Professor Graham Welch, were appointed to undertake a research evaluation of key elements of the Programme. Two prime foci have been identified:
(i) to undertake an initial baseline audit of singing in randomly selected schools and
(ii) to link this baseline data collection to a pre- and post-impact evaluation of particular 'Sing Up' Programme interventions with children and adults (teacher, parents and other professionals involved in promoting singing in community contexts).
project team...
The core research team for the National Singing Programme are:
Professor Graham Welch
Dr Evangelos Himonides
Dr Jo Saunders
Dr Ioulia Papageorgi
selected project public output...
Welch, G., Himonides, E., Saunders, J., Papageorgi, I., (2008). The National Singing Programme for Primary schools in England: An initial baseline study overview, February 2008. London: Institute of Education.
Welch, G., Himonides, E., Saunders, J., Papageorgi, I., Rinta, T., Preti, C., Stewart, C., Lani, J., Vraka, M., Hill, J. (2008). Researching the first year of the National Singing Programme in England: An initial impact evaluation of children's singing behaviours and singer identity. London: Institute of Education. [ISBN: 978-1-905351-09-1]
[download this report]
Welch, G. & Himonides, E. (2008). An overview of initial research data (2007-2008) concerning the Vocal Force component of workforce development under the umbrella of the National Singing Programme Sing Up in England.
Welch, G. (2009). Evidence of the development of vocal pitch matching ability in children. Japanese Journal of Music Education Research.
[presentation slides]
Researching the first year of the National Singing Programme in England: baseline data and initial impact evaluation (1. children's behaviours and attitudes 2. 'Vocal Force' workforce development).
This presentation was made on Friday 3rd October 2008 at Regent's Park College in London to the National Singing Programme's SING UP Research Group (SURG). For more detail on the content of the presentation, please see the related written report on this website (item 2).
[presentation slides]
Welch, G. (2009). Musica a scuola. Presentation at Cremona Mondomusica 2009: Convegno "La didattica musicale nelle scuole primarie e secondarie". Cremona, Italy, October 2009.
Welch, G., Himonides, E., Saunders, J., Papageorgi, I., Vraka, M., Preti, C., Stephens, C. (2009). Researching the second year of the National Singing Programme in England: An ongoing impact evaluation of children's singing behaviour and identity. London: Institute of Education. [ISBN: 978-1-905351-10-7]
Welch, G. (2010). Seminario Nazionale di avvio del progetto "Musica 2020" Educazione corale e relative ricerche in ambito europeo. Bologna, May 2010. [presentation slides]
Welch, G. (2010). Video: Seminario Nazionale di avvio del progetto "Musica 2020" Educazione corale e relative ricerche in ambito europeo. Bologna, May 2010. [Video recording]
Saunders, J., Varvarigou, M., & Welch, G.F. (2010). The role of singing. In S. Hallam & A. Creech (Eds.), Music Education In the 21st Century In the United Kingdom: Achievements, analysis and aspirations. (pp69-84). London: Institute of Education.
Saunders, J., Himonides, E., & Welch, G.F. (2010). Engaging with the National Singing Programme: Sing Up Live Field Study. London: Institute of Education. [pp69].
Himonides, E., Saunders, J., Papageorgi, I. & Welch, G.F. (2011). Researching Sing Up's Workforce Development: main findings from the first three years (practitioners' singing self-efficacy and knowledge about singing). London: International Music Education Research Centre Press [pp. 147]
Welch, G.F. (2011). Psychological aspects of singing development in children. Invited lecture, Goldsmiths College, London (Msc Music, Mind and Brain), February 2011.
Saunders, J., Papageorgi, I., Himonides, E., Rinta, T., & Welch, G. (2011). Researching the Impact of the National Singing Programme 'Sing Up' in England: Diverse approaches to successful singing in Primary Settings. London: imerc. [pp51] [ISBN 9781-905351-16-9]
Welch, G.F. & Saunders, J. (2011). The Chorister Outreach Programme: an impact evaluation. [presentation Slides, Birmingham, February 2011]
Welch, G.F. & Saunders, J. (2012). Leading singing groups: Key ingredients of successful facilitation. [Presentation Slides, CCCU, February 2012]