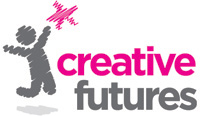 Creative Futures is a multi-arts charity which transforms the lives of vulnerable children and young people through high quality arts programmes. Its work is targeted to specific needs and priorities, is strongly outcomes-focussed, and delivered by inspiring and experienced artist-educators. Founded in 2011 by Julian Knight, Creative Futures is fast becoming a sector leader in the delivery of high quality, innovative programmes in a handful of specialist areas: Early Years, Looked After Children, and Special Educational Needs. Creative Futures' approach is strongly rooted in research and collaboration, bringing insights from academics as well as professionals from non-arts fields into its work to the benefit of participants.
Every project is bespoke, and is tailored to local and individual needs and priorities. Many programmes involve independent researchers to measure outcomes and impact, and Creative Futures has collaborated with Professor Graham Welch, Dr Jo Saunders, Dr Deborah Vickers and other researchers from UCL and other institutions on a number of projects to date including singing programmes with deaf and hearing impaired students (see 'Using singing to nurture children's hearing? A pilot study' http://www.tandfonline.com/doi/full/10.1179/1467010015Z.000000000276 ), a primary music and drama study involving 900 children across England ('Act Sing Play' funded by the Education Endowment Foundation) and early years music projects, such as 'Music for Change' (featured here).
Creative Futures has a growing network of more than 200 highly experienced freelance artists who deliver its programmes, and with whom it works closely on all stages of planning, delivering and reviewing its outputs.
Supporting Material
You can read the Creative Futures project briefing [here]
Contact Information
For more information contact Julian Knight | This email address is being protected from spambots. You need JavaScript enabled to view it. | www.creativefuturesuk.com