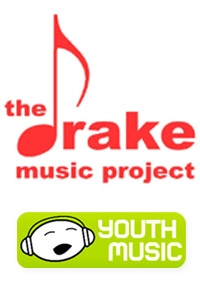 Funded by Youth Music, the Plug IT project was organised by The Drake Music Project charity's London Centre and ran from 15th April 2005 to the 30th March 2006. Its overriding aim was to 'create access to [music making] opportunities for disabled young people'. Approximately two to two-and-a-half hours each week in three, consecutive, term-long residencies were allocated for music-making activities with a designated group of children that exhibited a range of disabilities, including individuals with complex special needs.
As part of the overall project conception, each residency focused on a particular musical style and was supported by IT. The research evaluation (reported in November 2006) gathered evidence of the nature and effectiveness of each term's residency, drawing on observation, semi-structured interviews with key participants, video recordings and project literature.
The outcomes indicate that the organisation can play an important role within the special education schools sector, particularly if they ensure appropriate teamwork and partnership at every stage of the process and that each of the partners draws on their strengths. This would include detailed planning in advance of any classroom-based activities to bring together specialist knowledge concerning (a) musical possibilities and also (b) the most appropriate music technology to realise these possibilities. The research evaluation was undertaken as a follow-up to an earlier, DfES-funded study for Drake.
project team...
Professor Graham Welch, IoE
Ross Purves, IoE
Evangelos Himonides, IoE
selected project public output...
Welch, G.F. & Purves, R. (2004). The Drake/DfES 'Accessible Inclusive Music in Schools (AIMS)' Project: A Research Evaluation. London: Institute of Education. [pp81] [ISBN 1-905351-00-3]
Welch, G.F., Purves, R.M., & Himonides, E. (2006). The Drake/Youth Music 'Plug-IT' project: A Research Evaluation. London: Institute of Education. [pp. 39] [ISBN: 1-905351-06-2]
contact information
· Professor Graham Welch · DRAKE Music Project official website · Youth Music official website