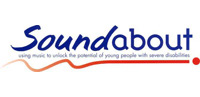 This two-year research project (2005-2007) focused on (i) an evaluation of current activities by the Soundabout music charity and (ii) the provision of a possible agenda for future development.
The research was envisaged as a collaborative process with Soundabout staff and their clients and was intended to provide an opportunity to identify excellent practice in the field of music and communication for children and young people with complex needs.
The research methodology included:
case studies of children, young people and schools;
videoed classroom observations;
interviews with headteachers, teachers and parents (at home) and a senior Local Authority music representative;
meetings with the Charity Trustees;
and also a questionnaire survey of all schools that had experienced the Charity's work in the past three years.
Two interim reports were made. Although the research outcomes are confidential to the Trustees (March 2007), research data indicate that there are particular strengths and areas for development in the structure and function of the organization's distinctive and positive mission and that it offers a unique service to the special school sector.
project team...
Professor Graham Welch, IoE
Costanza Preti, IoE
selected project public output...
Welch, G.F. & Preti, C. (2007). Soundabout: A Research Evaluation. London: Institute of Education. [Mar 07, final] [pp44] [ISBN 9781-905351-07-7]
contact information