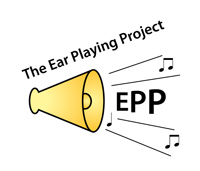 The Ear Playing Project is a research project led by Professor Lucy Green (Institute of Education, London University), who devised and developed the informal learning model of Musical Futures.
The research is aimed at classically-trained instrumental teachers who would like to find new ways of helping their students play by ear, improve their aural and improvisation skills, and play with increased confidence and musical feel. The research team are currently seeking participants.
Participants will be invited to attend one of the project's free seminars at the Institute of Education. Here they will be given an introduction to the teaching and learning strategies, and free access to all the materials needed in order to try out the approaches with their students. After the seminar, it will be entirely the participants' choice whether or not they wish to try them.
Dr David Baker and Dr Maria Varvarigou are the Research Officers.
EPP project partners
contact information