funded by the ESRC: Teaching and Learning Research Programme under award RES-139-25-0101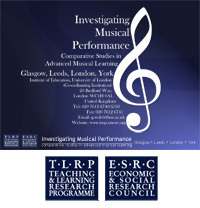 The Investigating Musical Performance [IMP]: Comparative Studies in Advanced Musical Learning research project was a two-year comparative study of advanced musical performance which began in May 2006 and is funded by the ESRC under their Teaching and Learning Research Programme (TLRP - http://www.tlrp.org/proj/Welch.html).
The project had been devised to investigate how classical, popular, jazz and Scottish traditional musicians deepen and develop their learning about performance in undergraduate, postgraduate and wider music community contexts. The project was conceived as a multi-site, multi-methods research project that draws equally on the strengths and expertise of the four higher education partners (the Institute of Education, University of London; University of York; Leeds College of Music; and the Royal Scottish Academy of Music and Drama, Glasgow).
Included in the research methodology was a specially-devised questionnaire, linked electronically to a 623 field database, that provided a comprehensive, short-term, longitudinal comparison of participants' (n= 280+) backgrounds, attitudes and approaches to advanced performance learning over a twelve month period. This data was complimented by interviews, individual case studies, focus groups and digital video analyses of studio-based instrumental lessons.
Preliminary analysis of the questionnaire data obtained from the first phase of data collection (July-October 2006) produced evidence of significantly different developmental profiles for classical and non-classical musicians. Classical musicians tended to have begun their engagement with music at an earlier age, and were influenced musically by family history, instrumental or vocal teachers and formal groups. Conversely, non-classical musicians were more likely influenced by well-known performers and informal groups. There was some evidence of the influence of private vs. state-maintained education; of those who had attended independent schools, the majority were classical musicians. Differences were also found relating to participants' beliefs about expertise in music teaching and performance and in their perceived musical self-efficacy and performance anxiety. Whilst classical musicians tended to spend more time practising alone and rated themselves more highly on musicality and expressive skills, non-classical musicians appeared to manage performance anxiety more effectively and experienced more pleasure, overall, from their musical activities.
'Typical' profiles of classical and non-classical musicians were presented at the national TLRP conference (November 2006, Glasgow) and at research seminars in London (Wellcome Department of Imaging Neuroscience, UCL and Institute of Education, both March, 2007), as well as the international Music Education Research conference in Exeter (April, 2007). Presentations highlighted points in the musicians' developmental paths when significant influences and choices may have contributed to the formation of "classical" or "non-classical" musical identities. Important points of similarity and differences were discussed and the implications of these two musical trajectories for teaching and learning were explored.
Related data on differences between instrumental musicians and singers was presented as an invited keynote at the national Finnish Music Educators conference in Oulu, Finland (March, 2007) and informed a keynote at the World Creativity Summit in Hong Long, China (July, 2007).
The research methodology embraced aspects of research approaches adopted in earlier funded research for the ESRC (Hargreaves & Welch, 2002-2003) and AHRB (Welch, 2002-2003; Howard & Welch, 2003-2004). In addition, a funded research link 2007-2009 had been established with the University of Tasmania, funded by the Australian Research Council.
project team...
The award holders are Welch, Duffy, Potter and Whyton and the two-year research project (2006-2008) commenced in April 2006.
Professor Graham Welch, IoE
Celia Duffy, RSAMD
Dr John Potter, University of York
Dr Tony Whyton, LCM
Dr Ioulia Papageorgi, IoE
Dr Andrea Creech, IoE
Dr Frances Morton, RSAMD
Liz Haddon, University of York
Dr Christophe De Bézenac, LCM
selected project public output...
Creech, A., Papageorgi, I., Duffy, C., Morton, F., Haddon, L., Potter, J., de Bezenac, C., Whyton, T., Himonides, E. and Welch, G. F. Investigating musical performance: Commonality and diversity amongst classical and non-classical musicians. MS submitted for publication
Papageorgi, I., Creech, A., Duffy, C., Potter, J., Whyton, T., Morton, F., Haddon, L., de Bezenac, C., Himonides, E. and Welch, G. F. Investigating musical performance: The development and prediction of expertise in advanced musical learners. MS submitted for publication
project contact details...